Local Digital Marketing that gets Results for your Business!
Grow Today ….. Let's Make it Easy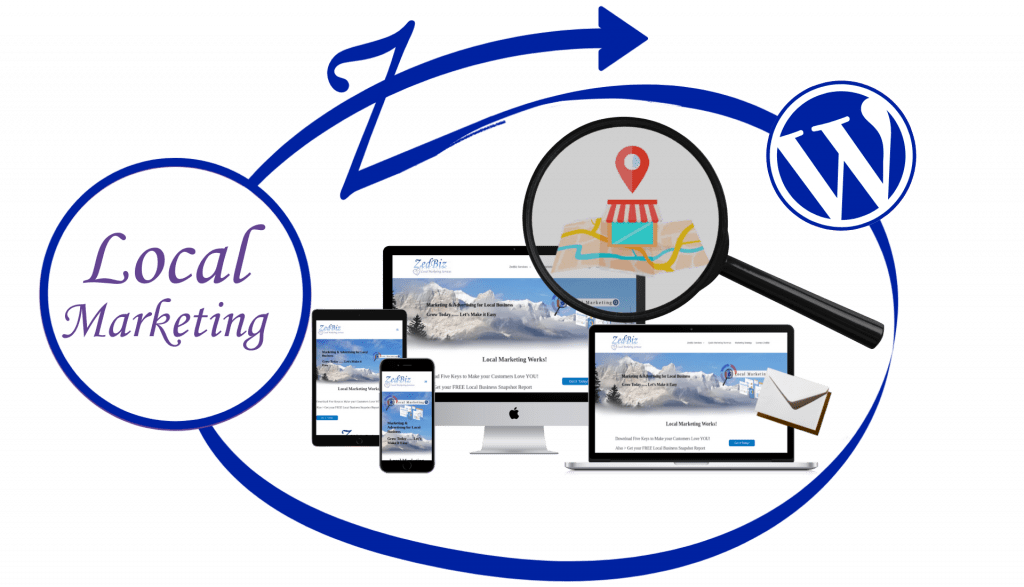 Welcome to ZedBiz – Your Local Business's Gateway to Digital Success!
As a local business owner or manager, you know that navigating the digital landscape is no easy feat. But fear not, because at ZedBiz, we're here to be your digital co-pilot! Let's delve deeper into the world of digital marketing and see how it can work wonders for your unique business – whether you're a plumber, restaurant owner, massage therapist, or any local champion!
Digital Marketing: Your Secret Weapon for Local Business Triumph!
In this fast-paced digital age, having a strong online presence isn't just a plus; it's an absolute necessity. That's where digital marketing swoops in to make all the difference! It's a powerhouse strategy that seamlessly connects you with your target customers across a multitude of online channels, turning them from casual browsers to loyal patrons.
Explore the Marvels of Digital Marketing for Your Business
Picture your website as the heart of your online empire. It's the place where potential customers land to learn about your services, explore your menu or services list, and even make those all-important bookings or orders. With a professionally designed and user-friendly website, you'll leave a lasting impression that keeps them coming back for more.
Are you tapping into the full potential of social media? Platforms like Facebook, Instagram, Twitter, and LinkedIn, and the brand new Threads… aren't just for connecting with friends; they're gold mines for engaging with your target audience! We'll guide you in crafting captivating content, running eye-catching promotions, and building a community of raving fans who'll eagerly spread the word about your business.
In a world where phones are practically extensions of ourselves, mobile marketing is a game-changer! We'll ensure that your business shines brightly on those smaller screens, making it easy for on-the-go customers to find and interact with you, whether they're looking for a quick lunch spot or a relaxing massage appointment.
In the digital realm, email marketing remains a treasure trove of personalized connections. It's the perfect way to stay in touch with your customers, sharing tailored messages, exclusive offers, and heartfelt gratitude that'll keep them coming back for more.
Ever wondered why some businesses pop up at the top of search results, while others stay hidden in the depths of the internet? Fear not! Our search engine optimization (SEO) expertise will propel your business to the top, ensuring that you're seen by eager customers searching for exactly what you offer.
Ready to rev up your online visibility and turbocharge those conversions? From Google Ads that target local searchers to eye-catching banners that showcase your best deals, we've got the winning formula to put your promotions right where they'll make the biggest impact.
Marketing Automation - Streamline Your Success!
Time to level up your local business game with the Marketing Automation! At ZedBiz, we know you're busy running the show, and that's why we're here to introduce you to this game-changing tool. Marketing Automation is like having your very own digital assistant – it handles repetitive tasks, nurtures your leads, and keeps your marketing efforts on point, so you can focus on what you do best.
The Power of Marketing Automation
Say goodbye to tedious manual tasks! With Marketing Automation, we'll set up and manage your campaigns with precision. From welcoming new customers to following up on inquiries and even re-engaging past customers, it's all on autopilot!
Every lead is like a precious gem, and Marketing Automation ensures they're treated as such. We'll tailor personalized messages and drip-feed valuable content to keep those leads engaged, moving them closer to becoming loyal customers.
With the right timing, your marketing efforts can work like magic. Marketing Automation lets us schedule campaigns strategically, so your messages hit the sweet spot when your audience is most receptive.
Numbers never lie, and Marketing Automation provides valuable insights into your campaigns' performance. We'll analyze the data, fine-tune your strategies, and optimize your efforts for maximum impact!
Delivering a personal touch to every customer is a challenge – but not with Marketing Automation! We'll craft dynamic content that addresses your customers by name, making them feel special even in a mass email blast.
Embracing the Future with Artificial Intelligence in Marketing
Unleashing AI's Marketing Potential
Artificial Intelligence (AI) in marketing is here to revolutionize the game! At ZedBiz, we're on the cutting edge, harnessing the power of AI to supercharge your marketing efforts. It's like having a brilliant marketing guru by your side, predicting trends, analyzing data, and making savvy decisions that propel your business forward.
Hyper-Personalization: AI helps us understand your customers better than ever before. By analyzing their behaviors, preferences, and past interactions, we'll tailor recommendations and offers that resonate with each individual, turning them into loyal advocates.
Predictive Analytics: No more guessing games! AI crunches the numbers, predicting customer behaviors and trends. Armed with this knowledge, we can proactively tailor your marketing strategies to stay one step ahead of your competitors.
Chatbots – Always There, Always Ready: Ever wish you had a 24/7 customer support superhero? Enter AI-powered chatbots! These virtual assistants engage with your customers, answer queries, and even complete transactions, giving your customers instant gratification.
Smart Content Creation: AI-generated content? Believe it! From personalized emails to compelling social media posts, AI tools are honing their writing skills to create engaging content that captivates your audience.
Automated Ad Optimization: AI is a whiz at analyzing ad performance and making real-time adjustments. We'll let AI handle the nitty-gritty of your ad campaigns, ensuring every dollar you spend generates the maximum return on investment.
Marketing Automation and Artificial Intelligence are your secret weapons for staying ahead in the digital landscape. We have launced the all new ZedNow Marketing Automation System. ZedNow uses these powerful tools to elevate your business, connect with your audience, and thrive in the ever-evolving market.
Ready to harness the power of Marketing Automation and AI? Drop us a message, and let's revolutionize your marketing strategies for success! Join Forces with ZedBiz for Digital Dominance!
Here at ZedBiz, our passion is fueling local businesses like yours to conquer the digital realm with confidence. We'll be your guiding light through the ever-evolving digital landscape, ensuring that your online presence shines like a beacon, captivating your audience and driving business growth.
Drop us a message, and let's unlock the full potential of digital marketing for your local business!
Grab your Local Digital Marketing Guide. BONUS Five Keys to Make Customers Love YOU! Google Business Account Guide