Unleash Your Business's Online Potential with
Listing Builder and
Listing Sync Pro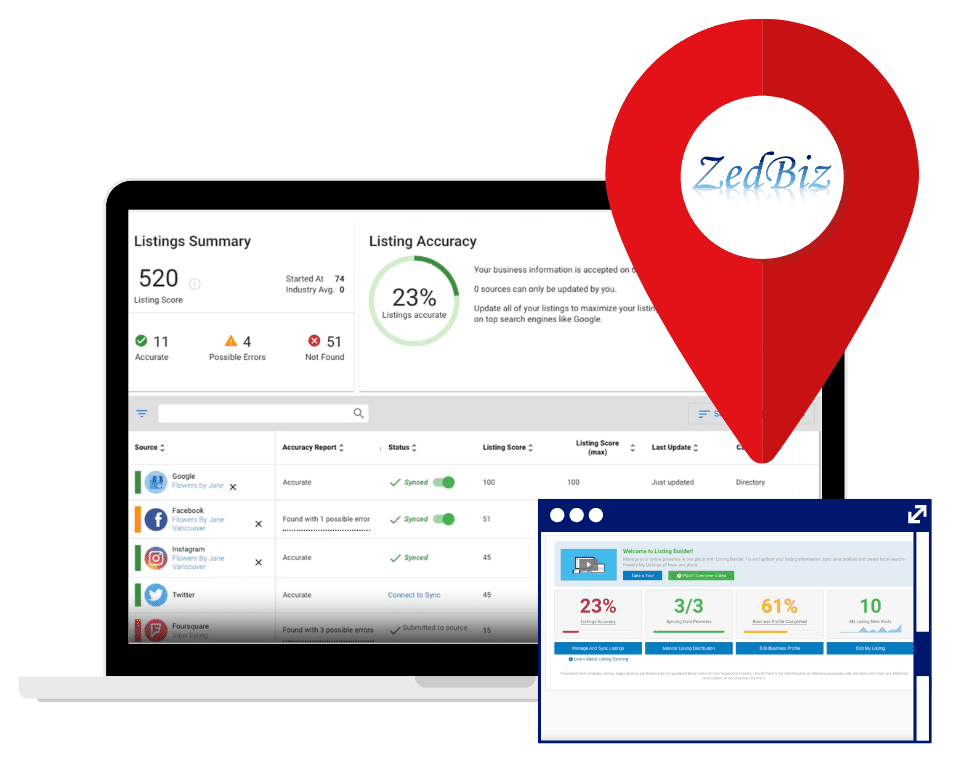 Howdy, local business legends! 
It's your pal, Marketing Jack, coming straight from the heart of the Canadian prairies. Now, I might not know much about fancy city life, but I sure know a thing or two about growing things, just like your business. 
Today, I'm gonna let you in on a little secret that's gonna make your business bloom like a sunflower on a summer day. 
We're talkin' about Listing Builder and Listing Sync Pro
– the dynamic duo that's gonna put your business on the digital map.
Listen up, my friends. These days, folks are clickin' and searchin' online like it's a town gossip party. You don't wanna be the one missin' out on all the fun, do ya? That's where our heroes come in – Listing Builder and Listing Sync Pro. They're like the farm tools you need to plow through the online world.
Let's break it down, y'all:
In this digital age, your online presence is like your business's fingerprint – unique, traceable, and everywhere. Whether you're flipping pancakes or fixing pipes, your customers are searching for you online.
So, what's the deal? You gotta make sure your business listings are like a finely-tuned orchestra – present, accurate, and protected from those pesky wrong notes.
Introducing the ultimate power duo:
Listing Builder and Listing Sync Pro
These aren't just tools; they're your secret weapons to conquer the online battlefield.
Let me break it down for you:
Listing Builder: Your Online Launchpad
Think of Listing Builder as the launchpad for your online journey
It's like having your own dashboard with all the bells and whistles – and you know how much I love gadgets. With a quick glance, you can see how your business is strutting its stuff across the digital dance floor. And that's not all:
Access to Google Insights
Ever wanted to peek behind the curtain of Google? Well, now you can! Get the inside scoop on how people are discovering your business.
Show your business some love by creating, managing, and updating your listing. Oh, and it's not just any listing – it's supercharged for local searches. You'll be popping up on screens quicker than a magician's disappearing act.
Don't keep your business a secret. Think of this as the grapevine for your business. We're talkin' about spreadin' the word far and wide by sharing your business info with data wizards out there. Let the data aggregators spread your listing, making sure your info is out there for everyone to see.
Who's the boss? You are! Sync up with the big shots – Google, Facebook, Instagram, Twitter – you name it. Your business will be strutting its stuff all over the internet.
Listing Sync Pro: The Commander-in-Chief of Your Online Posse
Now, let me introduce you to the big boss – Listing Sync Pro
This bad boy gives you the reins to your online destiny. Imagine having a single dashboard where you can snap your fingers and make your business appear like magic. Check out what it can do:
Want your business to shine on multiple platforms? With just one click, you'll be spreading your digital charm across a network of search engines, social networks, business directories, and even navigation systems.
Lock down your precious info from those pesky third-party changes. You'll be the gatekeeper of your online brand, keeping it safe and sound.
Have some juicy changes to share? New payment methods, updated hours, or even a swanky new logo – push those updates in real-time, keeping your customers in the loop.
If a competitor or data aggregator tries to mess with your info, Listing Sync Pro's got your back. It'll swoop in like a superhero to re-establish your accurate data.
Wondering if your listings are up to snuff? Listing Sync Pro has your back with a list of missing or inaccurate listings, giving you the ultimate proof of your online domination.
I know you've got questions, so let me answer 'em straight:
What Gets the Royal Treatment?
Oh, honey, everything – your company name, address, phone number, website, how you get paid, what services you offer, hours you're open, the brands you carry, holiday hours – even your media library gets a shiny makeover!
Faster than a Prairie Lightning Strike
Blink, and your listings are updated. You'll see those changes kick in within 15 minutes to an hour – talk about lightning-fast.
Listing Sync Pro doesn't play favorites. It syncs up with over 35 listing sites, making sure your business is strutting its stuff everywhere.
Did you know 88% of local searches lead to a visit or call within a day? And a whopping 46% of all searches are for local info. It's like the digital version of a town crier – people want to know what's happening nearby.
Here's the kicker – a whopping 66% of your local search success depends on managing your listings and reputation. That's right, your online reputation is the key to ruling the digital roost.
Wondering if your listings are up to snuff? Listing Sync Pro has your back with a list of missing or inaccurate listings, giving you the ultimate proof of your online domination.
So, there you have it. Your ticket to online stardom is here, and it's as easy as pie. Listing Builder and Listing Sync Pro – the dynamic duo that'll have your business standing tall on the digital stage. Get ready to dazzle 'em, and remember, I'm always here if you need a little digital guidance.

Now go on, make your mark on the web – and remember, Marketing Jack is here to help in any way you need!